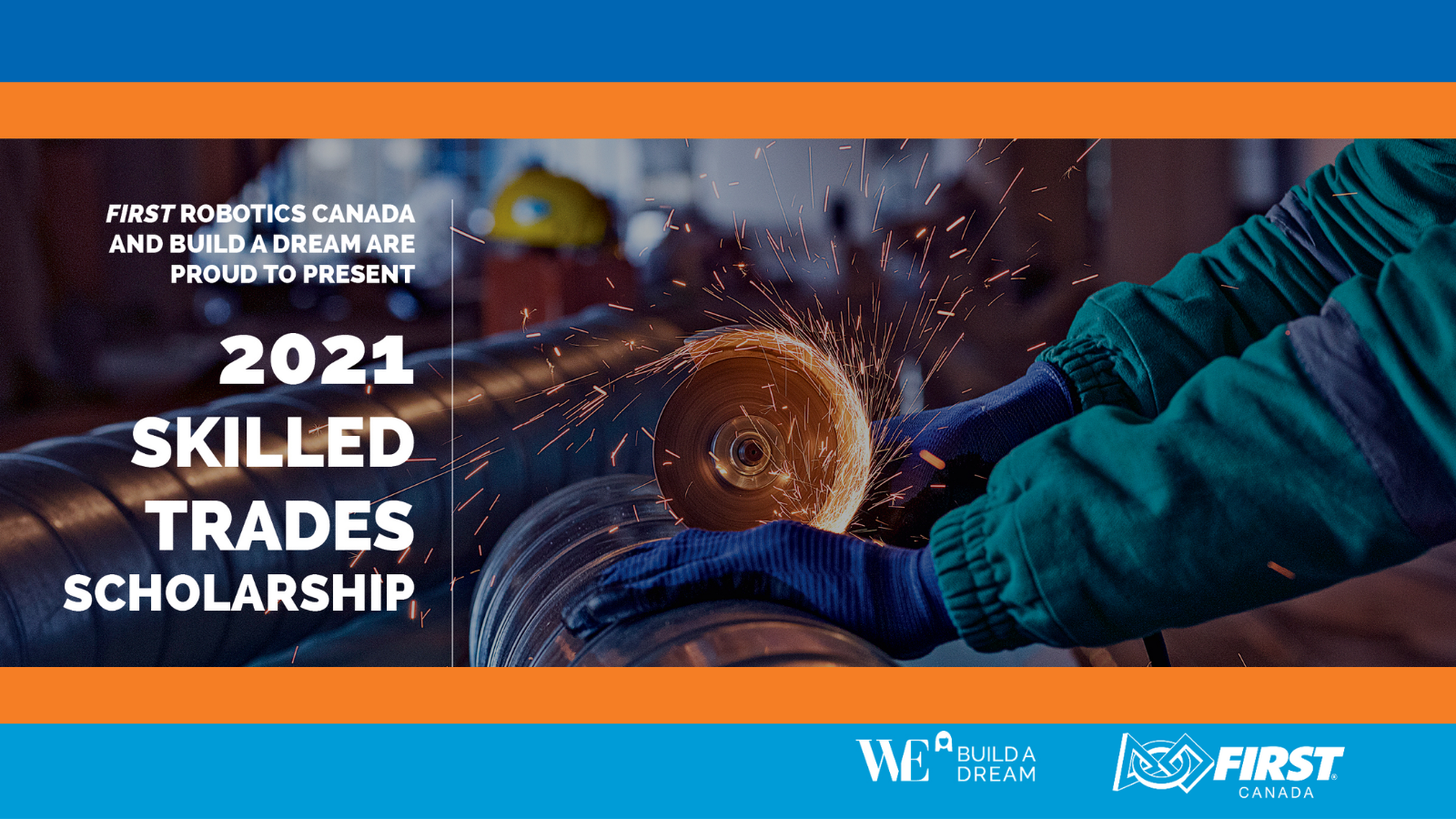 FIRST Robotics Canada in partnership with Build a Dream is proud to present the 2021 Skilled Trade Scholarship. The FIRST Canada Scholarship Committee is accepting applications from female FIRST Robotics Canada students who are planning to pursue post-secondary education in a Skilled Trade. The ideal candidate will be a woman who has demonstrated strong leadership, is fanatical about science and technology and wants to motivate positive change in the community and has been a part of a FIRST Robotic program either through FIRST Robotics Competition or FIRST Tech Competition in 2019 or 2020. 
Two scholarships in the amount of $3000 each will be awarded per school calendar year and will be announced in 2021. The deadline to apply is February 15th, 2021 at 11:59 PM (EST)!
ELIGIBILITY
To be eligible for the scholarship, candidates must:
Complete and submit the application form by Febraury 15th, 2021 date;

Be a female student currently enrolled, or have been enrolled, in a Canadian high school.

Participate on a

FIRST

Robotics Competition (FRC) or 

FIRST

 Tech Challenge (FTC) team in Canada;

Be eligible to enroll, and agree to enroll, as a full-time student in an accredited college starting no later than the fall semester of 2021; and

Use the scholarship to pursue a skilled trade college program 

Be a female student who is a dedicated role model in STEM (science, technology, engineering and math)
APPLICATION INSTRUCTIONS
To apply for the Scholarship, you must provide each of the following documents to the
FIRST
Scholarship Committee no later than February 15th, 2021:
Your completed application form (indicate on the form which event you/your team are/have attended)

A letter of recommendation from a high school instructor from whom you have taken one or more classes

A brief essay (no more than 500 words) in which you discuss your desire to be a STEM role model, your participation in the

FIRST

Robotics Competition or FIRST Tech Challenge (FTC), and the impact of the program on your life.

What sets you apart from others?

How are you making a difference and what is your plan to do so moving forward?

Your official high school transcript
If you are a home-schooled student, please contact the FIRST Scholarship Committee for instructions on what materials you should provide in lieu of a letter of recommendation and transcript.
All materials should be mailed or emailed to FIRST Canada at the following address:
FIRST Canada
P.O. Box 518
Pickering Main
Pickering, ON
L1V 2R7
Attn: Joanna Whitney
Email: joanna.whitney@firstroboticscanada.org
FIRST Canada will announce the recipient of the Scholarship in 2021.
To receive your initial disbursement of Scholarship funds, you must send FIRST Canada, no later than the end of the second week of classes, a letter requesting the funds and confirming the college to which the funds should be sent.
For complete details about the scholarship, and to apply, download the FIRST Robotics Canada & Build a Dream 2021 Skilled Trades Scholarship Award Program Materials below.