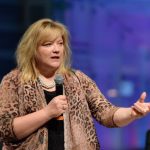 Name: Dr. Imogen Coe
Title: Academic leader, founding dean, Faculty of Science (2012-2018) Ryerson U. Science communicator, EDI advocate, STEMinist
Dr. Imogen R. Coe was the founding dean of the Faculty of Science from 2012 to 2018 and is a professor of Chemistry and Biology at Ryerson University in Toronto. She is also an affiliate scientist at St. Michael's Hospital, Toronto, where her research group studies the cell biology of proteins responsible for the uptake of anti-cancer drugs. She is the incoming President of the Canadian Molecular Biosciences Society and sits on various boards including Science Rendezvous and the Michael Garron Hospital. In addition to her work as a research scientist, Dr. Coe is internationally recognized as a Canadian thought leader in how to integrate principles of equity, diversity and inclusion (EDI) into science, technology, engineering and math (STEM). She has advised academia, government and industry on best practices and approaches to improve EDI and has contributed to national dialogue about these issues through various platforms. She is much in demand as a speaker and panelist and has received numerous awards for her advocacy work.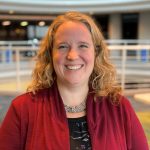 Name: Stephanie Thompson
Title: Senior Manufacturing Engineer General Motors of Canada
Stephanie Thompson is a passionate engineer and community leader who actively pursues new and
innovative ways of promoting science, technology and learning in the Niagara area.
Originally from Ottawa, Stephanie attended the University of Waterloo for engineering, before being hired
by General Motors of Canada. Currently a Senior Manufacturing Engineer, she leads engineering teams
on major capital investment projects to design assembly lines and optimize the production of engines and
transmissions. Stephanie is the Vice Chair of the GM's Women's Council, helping engage and retain
women across the organization.
As a FIRST Robotics Mentor, Stephanie has run FIRST Robotics teams at local schools since 2005 and
leads the Niagara FIRST Lego League as Tournament Director. Her focus is on empowerment of female
students in leadership and technical roles, and she continues to reach out to former students in a
mentoring capacity. For the last two years, Stephanie has been a member of the Girls in STEM Executive
Advisory Council, and leads team-building and design workshops at the Girls in FIRST Robotics
Weekend. Stephanie was recognized by the robotics community with the Woodie Flowers Finalist
Award, which celebrates the effective communication of mentors in the art and science of engineering
and design.
In 2019, Stephanie launched a new social enterprise called Women in STEM Experiences (WISE), a
workshop series aimed at breaking down barriers for women and making STEM subject accessible to
anyone. Over 100 women have participated in these Experiences, which will continue to grow in 2020.
Stephanie holds a Bachelors of Applied Science in Chemical Engineering and is Professional Engineer in
Ontario.
She and her husband Richard are raising their 3-year-old daughter Amelia, and spend time together
playing board games, doing escape rooms and travelling to exotic locations like China and
Newfoundland.