Other Grant Criteria
There are a limited number of Ontario grants available for first-time and returning Class Pack registrations
Grant recipients must agree to run the program for more than one season
The grant cannot be combined with the LEGO Foundation grant

Steps to follow prior to applying for a class pack grant
Click here for instructions about how to create a user profile and Class Pack account and to purchase a FIRST LEGO League Discover Class Pack. Please await notification from FIRST Headquarters that your payment has been processed.
Order enough DUPLO Steam Park sets for your desired ratio (recommend 4:1 or 7 sets for a class of 28) from B&B Education by contacting Nathalie Laquerre at nathalielb@bb.ca or (416) 616-7472 or from Spectrum by contacting customer service at (800) 668-0600.
Please retain proof of payment for both the registration fees and the Steam Park sets as these will be required for completion of the grant application.

New Grant Information Save up to 75%
1.) Are you looking to bring
FIRST
LEGO League Discover to your classroom or community for the first time? If so, you may be eligible to receive a Class Pack** grant in the amount of $1650 CAD
2.) Are you looking to bring a FIRST LEGO League Discover program back to your classroom or community*? If so, you may be eligible to receive a grant in the amount of $500
*A returning team will already have the some of the equipment necessary to run a program and therefore does not require the same grant amount as a new
** A Class Pack serves up to 30 Students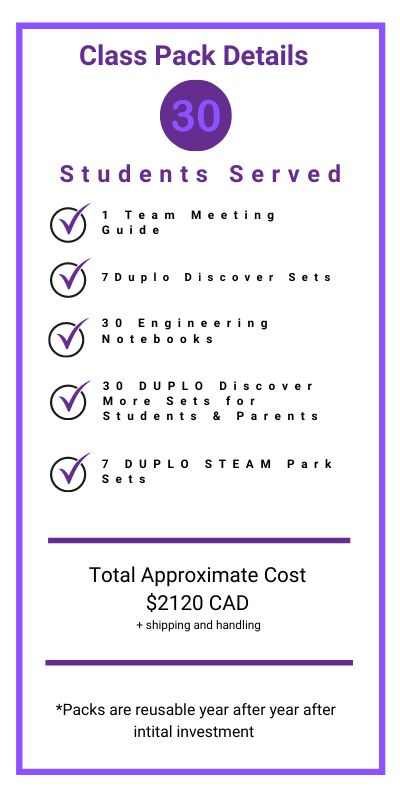 Class Pack: What's Included
1 Team Meeting Guide: 

Comprehensive guide provides facilitators with guidance and lesson plans on how to run 10 sessions and end with a culminating celebration. It includes student outcomes, handy tips, suggested tasks, and questions. >View a sample  

30 Engineering Notebooks: 

These printed student 

workbooks provide open spaces to write and draw ideas to the provided prompts. One page of the notebook is filled in during two classes and children can use their engineering notebooks at their final event to share what they created. >View a sample  

7 PLAYMAKERS

℠

 Discover Sets: 

These sets

 include an exclusive set of 

LEGO

®

 DUPLO

®

 elements students will use as a starting point to explore how STEM relates to their world as they create an obstacle course.  

 

30 Discover More Parent Engagement Sets: 

LEGO Six Bricks take-home sets for each student to extend and reinforce their habits of learning at home.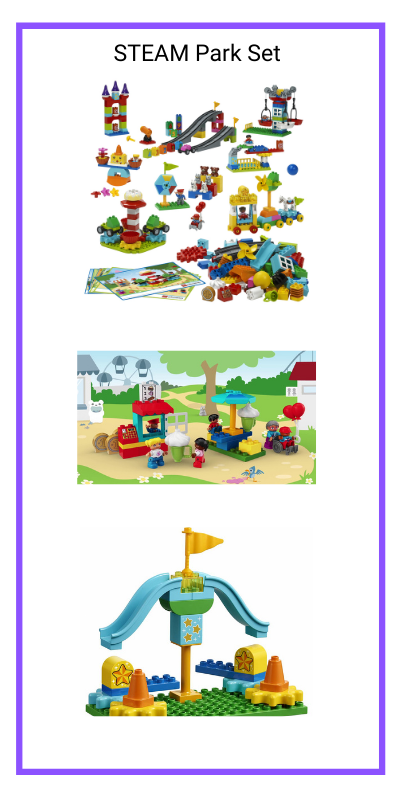 CLASS PACK START-UP COSTS
CLASS PACK START-UP COSTS ~$2120
Class Pack Registration Fee* of $500 CAD ($395 USD) includes:

1 Meeting Guide
7 DUPLO Discover Sets
30 Engineering Notebooks
30 DUPLO Discover More sets for students and their parents

Shipping for Season Materials from FIRST Headquarters: $120 CAD ($87 USD)
7 Building Kits**: $1500 (when purchased from B&B Education)

Duplo STEAM Park Sets: $215 CAD/set (includes taxes)
* Varies depending on exchange rate and shipping costs
** Reusable from year to year after the initial investment